You wouldn't build a house without a hammer and nails and you wouldn't make a steel railing without your welder. And just like you always use the right tool for the job, you're always going to wear the right gear because no matter what industry you're in from construction to welding and metal fabrication to laboratory work and more, no job is worth risking your life and your health. That's why here at Enchantment Safety & Supplies, we've been keeping workers all over Albuquerque, Bernalillo County, Rio Rancho, and North Valley, NM safe since 1992. We have the right OSHA and ANSI-approved workwear and safety clothing to make sure you're protected from falls, heavy equipment, harsh chemicals, and more.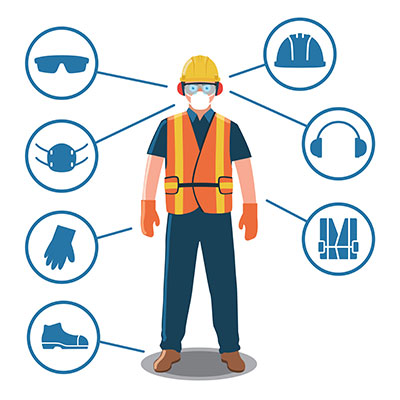 And unlike other workwear clothing companies online, we believe in ensuring you get the right safety gear for your specific job and we pride ourselves on giving you only the high-quality personalized service you can get from speaking directly to a person rather than filling numbers into a lifeless form on a website. Plus, if you're not sure which piece of safety apparel is right for your job or your employees, our friendly customer care team will be able to talk you through your selection so you never have to 2nd guess on safety.
Get the Right Workwear for the Job Without Compromising on Comfort or Safety!
Besides safety, your comfort is important because you can't be protected when your job is dangerous if you're wearing safety apparel that doesn't fit or that you can't move in. And because when you order your workwear directly from our huge inventory in Albuquerque, NM, you get personalized service over the phone that means you'll never have to worry if the size on an online chart is correct. So, go ahead and choose from our selection of safety clothing and workwear that includes everything below and more:
Hard Hats
Flame Resistant & High Visibility Hard Hats
Safety Goggles
Face Masks
Respirators
Heavy Duty Gloves
Work Gloves
Chemical Resistant Gloves
Steel Toe Boots
Work Boots
Class 2 & 3 Vests
High Visibility Safety Vests
Chemical Resistant Coveralls
Welder Shirts
And More
Remember everything we carry here at Enchantment Safety & Supplies is compliant with US government safety standards, including OSHA and ANSI. So, whether you're looking to replace old workwear, looking to restock your supply of safety clothing and apparel for your work crew, or starting a new career that requires your own safety apparel and personal protection workwear clothing, you can rely on us for our outstanding service and our large inventory of safety supplies. Your safety is our number one priority! Contact us today!